Varnish
Varnishing is the process of applying a transparent layer of silicon over the top of a printed area.
It is either applied to the entire surface or to a specific area of the label design, such as a logo in order to highlight a feature of a label design. The result is a glossy or matte luxurious appearance. A void can also be created (area where no varnish applied) to allow for thermal transfer over printing of batch data.
Aqueous Varnish, also known as water-based varnish, is among the most commonly used coatings available today.  Available in gloss or matte finish, this varnish does a good job protecting inks against abrasion and rub resistance.  It also resists yellowing, which is common with unprotected labels that have been in storage for a while.  Because they seal the ink from the air, aqueous varnishes can help prevent metallic inks from tarnishing.  Specially formulated aqueous coatings can be written on with a number two pencil or overprinted using a laser jet printer.  These are generally considered to be one of the most sustainable coating options available today because the formulas are nontoxic in the pressroom, and treated paper can be recycled in standard municipal systems without emitting harmful byproducts.  The cleanup process does not require toxic cleaning detergents, nor does it necessitate high temperatures (e.g. added energy) for drying.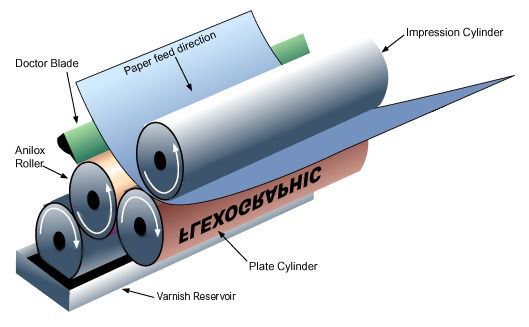 Ultraviolet Varnish offers more protection than aqueous coatings.  UV varnishes are applied in line and then exposed to ultraviolet light to polymerize and harden the coating, with zero emissions.  When UV is used on deep, rich colors, like blues and rich blacks, the result is an almost wet appearance.  This can be highly effective with image-rich projects.  The stunning shine it creates is why it is so popular for certain designs and products.  UV varnishes can either be applied across the entire page or on a spot basis.  The coatings are available in a gloss or matte and have a wide variety of specialty finishes, including glitter, tints and even different scents.  UV coatings should be used in conjunction with UV inks to help reduce the potential for drying and surface problems.
Specialty Varnishes can enhance labels with a variety of different effects.  Soft-Touch is a tactile aqueous coating that is very pleasing to the sense of touch and exhibits an ultra-matte appearance.  The combination of these two effects is visually stunning and brings new dimensions to label appearance.  There are a wide variety of different specialty varnishes available today. Find more here.